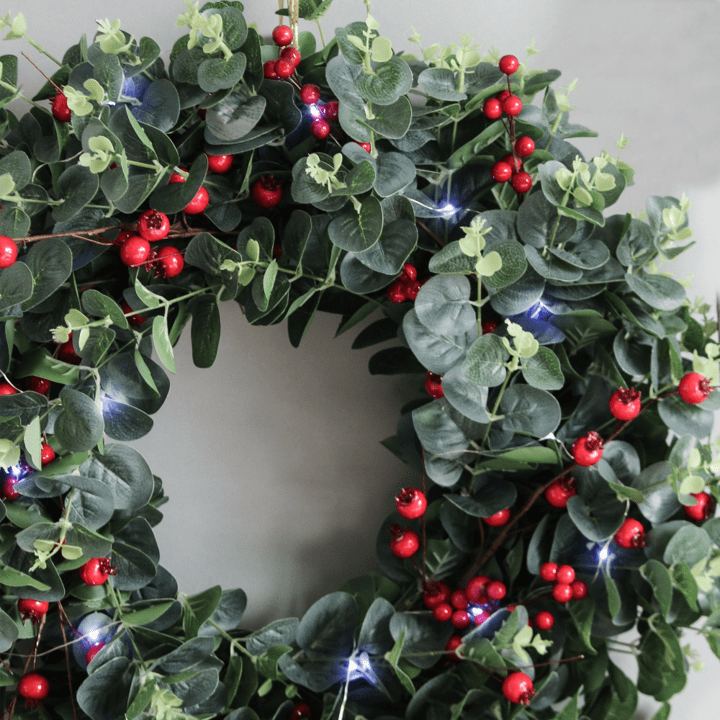 How to Make a Eucalyptus and Red Berry Wreath
18 Sep 2020
Make a modern, colour popping artificial wreath for your front door this Christmas. Using artificial eucalyptus and red berries, this wreath can be brought out year after year.
This artificial eucalyptus and red berry wreath is sure to bring some festive cheer. The rich red berries really stand out against the green foliage! Our range of artificial florals are available online and offer a near-identical look to fresh florals.
Difficulty: Easy
Time to Create: 1 – 1 ½ Hours
For this make you are going to need the following products:
1 x Firefly Lights
1 x Wire Cutters
How to Make
1. The first step to take in making your eucalyptus and red berry wreath is to prep your eucalyptus. To do this cut down your eucalyptus stems into smaller pieces. We cut ours into approximately 6-7 inch sprigs. Leave enough stem to be able to attach to the wire wreath ring.
2. Next, it's time to start placing your eucalyptus sprigs onto the wreath ring and attaching them with the wire. The idea is to have all of your foliage flowing in the same direction around your wreath ring. Start by taking a single sprig of eucalyptus, place this onto the wreath ring in the direction you want it to flow and secure by wrapping your wire around the stem and the wreath ring a few times.
3. Keep on adding more sprigs and securing them to the wreath frame using the same technique as above. You can either cut each piece of wire off from the reel after you have attached your sprig or, like us, keep your wire attached to the reel and wrap in a continuous fashion as you add more sprigs. Make sure as you go to keep attaching the sprigs in the same direction. Don't worry if it looks a little messy at the start, as you continue to add more foliage you'll start to see it all coming together and taking a nice full form.
4. When you have added your eucalyptus to about a quarter of your wreath, now is a good time to start prepping your berries. Take your berry stems and using your wire cutters cut off approximately 4-5 inches from the end of the main stem. Using the same technique as adding the eucalyptus, place your berries onto the wreath ring and use your wire to attach.
When placing your berries onto the ring, we find that they look best nestled between the eucalyptus sprigs so that the stems and the wire join is hidden.
Add as many or as little berries as you like!
5. Keep adding eucalyptus and berries until the entire wreath frame is filled up and it looks like you have a nice even density of leaves and berries. If you do find you have some sparse sections, simply bulk up your wreath with some smaller sprigs in these areas.
6. Once the wreath is finished, turn your wreath onto it's front. Take your ribbon of choice and cut to the length you desire. Loop the ribbon around the back of the wreath ring and tie the loose end into a secure knot.
7. The finishing touch to this wreath is adding a set of sparkling firefly lights. Carefully drape your lights around the front of your wreath. Make sure to turn them on whilst doing this as it makes it much easier to see the final effect and position them in the right place.
Now all you need to do is find the perfect spot to hang your finished eucalyptus and red berry wreath.